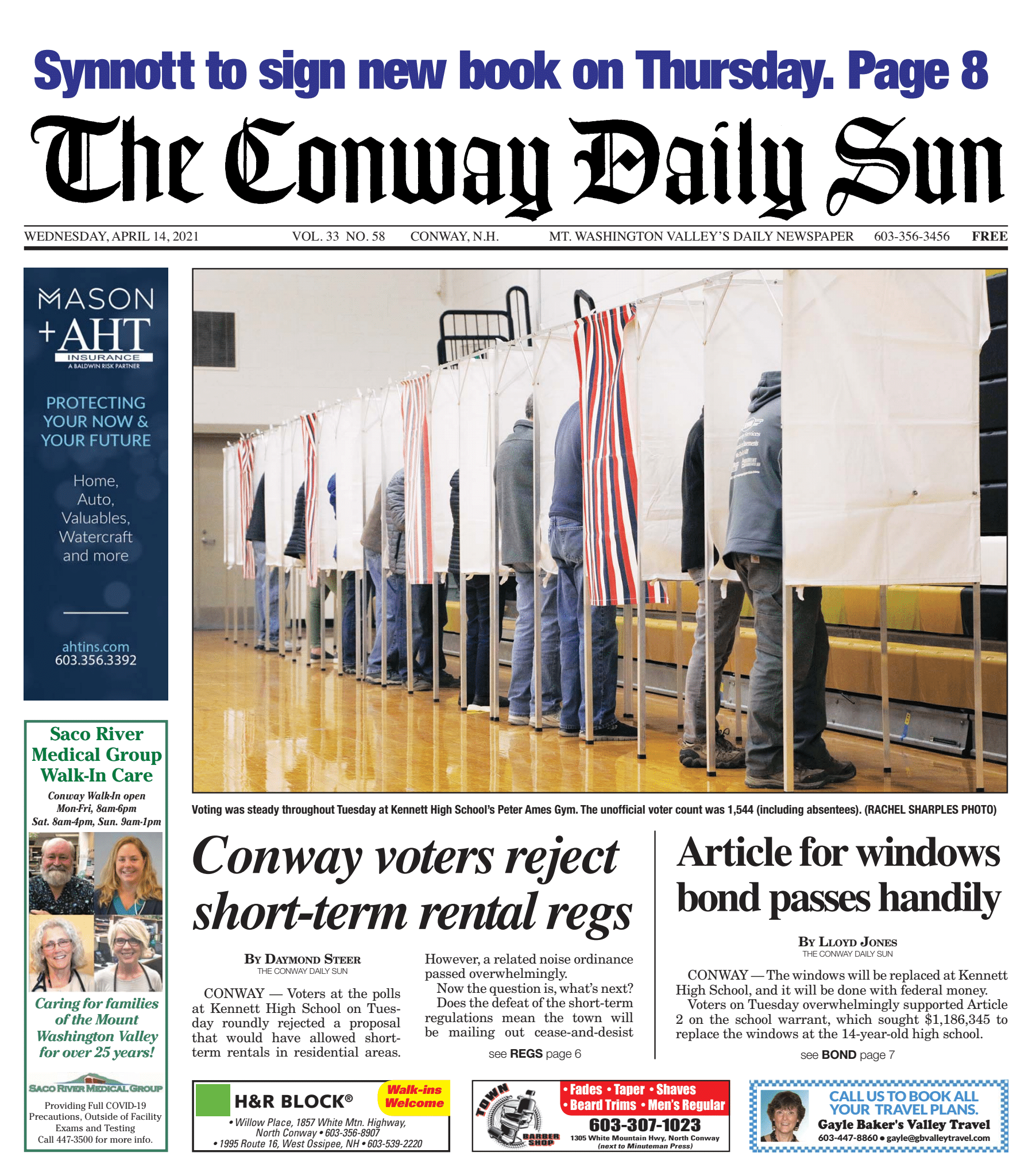 Conway residents went to the polls yesterday to determine the future of short-term rentals (STRs) in the town. This has been a heated debate for the Town and residents for over a year, which forced Town officials to appoint a Short-Term Rental Task Force in 2020 to do the research and propose a plan to address the issues for yesterday's Town vote. Multiple warrant articles were put forth by this Committee with the support of the Conway Selectmen. The major articles 2, 3, 6, and 21 through 23 all pertained to the STR issues.
Article 2, which sought to provide a definition for a short-term rental for the zoning ordinance which was summed up as a unit being rented for less than 30 days and further defined it as a "non-residential use". The article was rejected by a margin of roughly 50 votes. It should be noted that NH Law does define STRs as a residential use.
Article 3 was also rejected, this proposal actually looked for voters to approve short-term rentals being added to the "permitted use" section where all single-family homes are permitted. Voters slammed this proposal by a margin of over 500 votes.
But Article 6 is where things get murky. This particular article asked Conway Voters to grant the Board of Selectmen to regulate and collect licensing fees from Short-Term Rentals. Surprising despite the opposition to the first 2 articles, Article 6 was narrowly approved.
Both Articles 21 and 22 were rejected by voters. They both spoke to the creation and funding of a short-term rental expendable trust fund.
Lastly, Article 23 speaking to enacting a Town wide noise ordinance was approved overwhelmingly.
Overall, it has become very evident by the results that the Town of Conway did not educate its residents on the consequences of voting on these articles. The fact that Article 6 was approved to allow for Selectmen regulation while all other articles failed just proves that voters did not understand the articles.
And this just continues the storm of misinformation and poor judgement that has been spewed by both sides of the argument and the Town of Conway. Cue the lawyers…
As far as next steps go, Town of Conway Selectmen John Colbath was quoted by the Conway Daily Sun:
"We do not have the information to decide what to do next."
Many questions circled about when will the Town send out Cease & Desist Orders. Selectmen Mary Carey Seavey noted that there will have to be a discussion with Town Attorney Peter Malia.
Many local Realtors have begun to look at the ongoing case from the Kearsarge Lighting Precinct, in which the Judge has already permitted STR's to continue to operate. It is the opinion of most that STR's in Conway will be given the same opportunity should this end up in the court system (It will).
And now we wait to learn more… The next Board of Selectmen meeting is set for April 20th which will likely be the day they decide whether to move forward with Cease & Desist orders and what ramifications the Town may face in doing so.
If you have questions or concerns about this matter, please feel free to reach out to me anytime! I am happy to bring you up to speed on this matter and how this is going to effect the Town of Conway going forward.